Find this product on Logos.com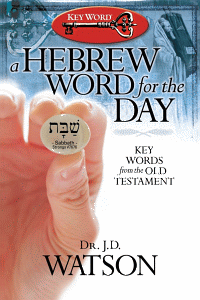 A Hebrew Word for the Day
Key Words from the Old Testament
Product Details
The purpose of A Hebrew Word for the Day is to share the richness of the Hebrew language words used in the Old Testament and help make them practical in the reader's Christian living. Simply because words matter, the words of the Bible matter most. And in a day when words don't seem to mean much, the need for precision in Christian doctrine and practice has never been more critical.
For each day of the year, Watson presents a brief word study and then offers an application to make that particular Hebrew word become real for practical living. To aid reinforcement, each day's devotion ends with Scriptures for study to apply the truth learned that day.
Doc Watson fulfills his desire of many years to provide daily devotions that not only contain deep spiritual truth, but also are easy to read and understand. In our day of Relativism, the absolutes of God's Word (and words) are desperately needed. These brief devotionals will enrich the mind, stir the soul, and empower the life of God's people.
About the Author
J.D. "Doc" Watson is currently the pastor of Grace Bible Church in Meeker, Colorado, where he has ministered since 1986. His driving passion is the exposition of the Word of God as the sole and sufficient authority in all matters, The second and third loves of his life are his wife Debbie and their son. Doc is the author of A Word for the Day: Key Words from the New Testament.