Find this product on Logos.com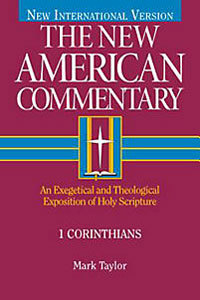 New American Commentary - 1 Corinthians
Vol. 28
Highlights
A thorough, verse-by-verse analysis
Insightful and technical aimed at the serious Bible scholar
Great for the pastor or serious Bible student
Vast in scope, eventually to total 42 volumes
Over 40 scholars worked on the complete set
Named by the R. C. Ryan Center for Biblical Studies as one of the Best Tools for Preaching and Teaching
Product Details
The New American Commentary Series
In development for over a decade, The New American Commentary series is for those who have been seeking a commentary that honors the Scriptures, represents the finest in contemporary evangelical scholarship and lends itself to practical work of preaching and teaching. This comprehensive series serves as a minister's friend and a Bible student's guide.
The New American Commentary is based on the inerrancy of Scripture, focuses on the intrinsic theological and exegetical concerns of each Biblical book, and engages the range of issues raised in contemporary Biblical scholarship. Drawing on the skills and insight of over forty Bible scholars, the New American Commentary brings together scholarship and piety to produce a tool that enhances and supports the life of the church.
Highlights of This Volume
Mark Taylor's commentary on 1 Corinthians looks at Paul's missionary journey to Corinth where he planted a church and nurtured the new believers for approximately eighteen months. Taylor pays careful attention to the nuances of the English translation (NIV), the Greek text, and the units of meaning that are vital to interpreting this letter. He presents with clarity the range of scholarly opinion regarding the issues in 1 Corinthians and then makes a case for his own views.
About the Author
Mark Tyalor (Ph.D. Southwestern Baptist Theological Seminary) is professor of New Testament and Associate Dean for Master's Programs at Southwestern Baptist Theological Seminary. He has published articles in Currents in Biblical Research and Catholic Biblical Quarterly, and his dissertation, A Text-Linguistic Investigation into the Discourse Structure of James, has been published by T&T Clark. He was formerly pastor of First Baptist Church of Osceola, Arkansas.
Endorsements
The church at Corinth was born and nurtured in one of the first century's most fascinating cosmoplitan cities, a geographical hub in which politicis, Greco-Roman philopsophies, values of honor and shame, religion, and rapidly developing commerce swirled in a dynamic cultural brew. Recent research makes clear just how much those culutral forces shaped the new believers of Corinth - much as we in the church today are shaped and pressured by the very similar cultural forces of the early twenty-first century. To plumb the depths of 1 Corinthians, then, we need a steady exegetical hand for unpacking the letter's message, and a lucid explanatory voice, so that we might grasp the relevance of the Corinthians' issues for our day. We have both in Mark Taylor's substantive, clearly written commentary, which is sure to give pators tremendous help in understanding and preaching this book.
Mark Taylor's commentary on 1 Corinthians is an excellent resource for pastors and teachers, balancing detailed analysis of individual passages with elucidation of Paul's overall flow of thoughts. Writing with great clarity, Taylor provides well-informed discussion of points of exegetical debate and complexity, while always keeping our attention focused on the most imporatant emphases of the passage. This is an outstanding addition to the New American Commentary series.