Find this product on Logos.com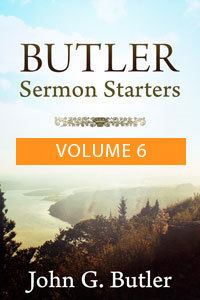 Butler's Sermon Starters: Volume 6
Product Details
Butler calls these "sermon starters," but they are far more than that. Each concentrates on a single Bible verse and contains an outline of four to six crisply alliterated sermon (or lesson) points as only John Butler can do. With each alliterated point, Butler offers us a paragraph or two of concentrated material. These are not full-blown sermons, but they are carefully written, containing only the distilled material that you will actually use.
Volume 6 is composed of 100 sermons from Genesis and 100 from Matthew. Each sermonette is from one verse text, and the book develops each text with an outline, annotations, and applications. There is at least one sermonette from every book of the Bible in this volume.
This book of Sermonettes is to help you get a sermon, sermonette, or devotional. If you need a sermon, sermonette or devotional, here is the place to get your ideas. Feel free to use the outlines, illustrations and anything else in these Sermonettes that you wish to use.
Most speakers may wish to personalize the sermon starters and use their own illustrations and outlines. They simply need a "starter" and that is what these Sermonettes are intended to be.
The Sermon Starter Sermonettes are listed in the contents according to "book order" as listed in the Bible. There also are two indexes (Scripture Text Index and Subject Index) at the end of this title that the user may find helpful.
Each sermonette is from a one verse text. The book develops each text with an outline, annotations and applications. Outlines are alliterated—a trademark of the author.
All Scripture used in this book is from the King James Version. Hebrew and Greek references are from the Hebrew and Greek MSS used for this translation.
About the Author
John G. Butler has been a Baptist minister for over half a century with "pastorates in Williamsburg, Ohio; Detroit, Michigan; Chicago, Illinois; and Clinton, Iowa. He is a veteran of the United States Navy, attended Tennessee Temple University and graduated from Cedarville University. Butler is also the author of the Bible Biography Series —a twenty-seven volume series about major Bible characters; the Studies of the Savior —a ten volume series about Jesus Christ; and Daily Bible Reading—a unique four volume devotional series that emphasizes expository Bible study.