Find this product on Logos.com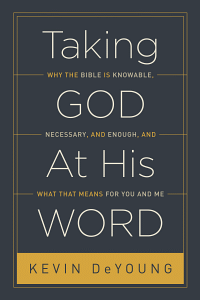 Taking God At His Word
Why the Bible Is Knowable, Necessary, and Enough, and What That Means for You and Me
Product Details
Can we trust the Bible completely? Is it sufficient for our complicated lives? Can we really know what it teaches?
With his characteristic wit and clarity, award-winning author Kevin DeYoung has written an accessible introduction to the Bible that answers important questions raised by Christians and non-Christians. This book will help you understand what the Bible says about itself and the key characteristics that contribute to its lasting significance.
Avoiding technical jargon, this winsome volume will encourage you to read and believe the Bible—confident that it truly is God's Word.
About the Author
Kevin DeYoung (MDiv, Gordon-Conwell Theological Seminary) is senior pastor at University Reformed Church in East Lansing, Michigan. He blogs at the Gospel Coalition and has authored or coauthored numerous well-known books.
Endorsements
My trust in God's Word is greater, my submission to God's Word is deeper, and my love for God's Word is sweeter as a result of reading this book. For these reasons, I cannot recommend it highly enough.