Find this product on Logos.com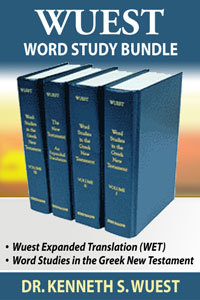 Wuest Word Study Bundle
This title works with the following Wordsearch products
Desktop
Highlights
Includes Word Studies in the Greek New Testament and the Wuest Expanded Translation of the Bible
An essential reference set for any serious Bible student
Easy to use, easy to understand, not a technical word study
Majority of the Greek New Testament
Word Studies in the Greek New Testament was named as one of the 850 Books for Biblical Expositors by the Master's Seminary
The Wuest Expanded Translation was named one of the Best 100 Christian Books Ever Written by Frank Viola
Product Details
Dr. Kenneth Wuest (1893-1962) was a brilliant theologian who was also a translator for the New American Standard Bible. His keen understanding of New Testament Greek remains highly respected by today's scholars, preachers, and students of God's Word.
Widely used and highly recommended, Wuest's Word Studies in the Greek New Testament offers a wealth of knowledge and insight on the majority of the Greek New Testament. Originally in 16 volumes, Wuest offers in-depth analysis of the meanings of the original Greek word, considering the context of the the original words with the idioms placed in their cultural settings. You don't need an understanding of Greek to use this study. This is also not a dictionary. It contains superb scholarship that will deepen your understanding of New Testament Scripture.
Wuest did something unique in this volume by choosing 16 New Testament books, tracing each verse of the text, and stopping along the way to fully explain each Greek word of significance. The benefit to you is that he covered every significant Greek word you're likely to study.
Published specifically to be used alongside word study tools, the Wuest Expanded Translation of the Bible also included in this bundle is the perfect companion to Word Studies in the Greek New Testament. As much as possible, Wuest follows the way the original text flows in the Greek. While this might be less enjoyable for reading, it's quite effective for word study. The result of this is a clearer understanding of what a first century Christian would have understood while reading the Scriptures. The use of additional words and phrases communicate the full meaning of the Greek words and the tenses of the verbs. It is based on Nestle's critical text.
Gain for yourself a reliable understanding of the original meaning of the New Testament with these classic works. Discover for yourself a clearer understanding of the culture, setting, and language that gave us the New Testament.
About the Author
Kenneth Samuel Wuest (1893 – 1962) was a noted New Testament Greek scholar of the mid-twentieth century. Wuest was a professor of New Testament Greek at the Moody Bible Institute in Chicago, and published over a dozen books on the New Testament. Wuest is often cited as an influential Evangelical and Dispensationalist scholar. He is also credited as one of the translators of the original New American Standard Bible.
Endorsements
Of particular value for those students who lack a personal knowledge of Greek.
Wuest was a beloved instructor at Moody Bible Institute for many years. At times he squeezed Greek words until they were about to bleed: but his simple studies reveal a love for Christ and a devotion to the Word.
Products Included In This Bundle