Find this product on Logos.com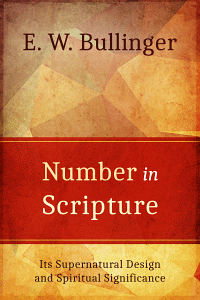 Number in Scripture
Its Supernatural Design and Spiritual Significance
This title works with the following Wordsearch products
Desktop
Product Details
God uses specific numbers to symbolize concepts throughout the Bible. Studying the greater meaning of these numbers will help you see and appreciate the intelligent design and order of the Bible overall.
Number in Scripture is a reference book that helps you understand the significance of the use of these numbers in the Bible. While published many decades ago, this volume is still a relevant and top scholarly study. Pastors, Bible teachers, and those who love the Bible will be encouraged by how God intricately designed the Word, even down to the what you might think are meaningless numbers.
Opening this book alongside your Bible during study in Wordsearch can give you quick access to the meanings of the numbers you come across, deepening your study and appreciation for the Bible.
This book also includes original Greek words and their English equivalents. Hebrew words are rendered in their English equivalent.
Check out a sample by clicking on the Sample button.
About the Author
Born in Canterbury, England, Ethelbert William Bullinger was a Greek and Hebrew scholar. In 1881, through recommendation of the Queen of England, the Archbishop of Canterbury awarded him the honorary Lambeth D.D. Bullinger published many works during his life.