Find this product on Logos.com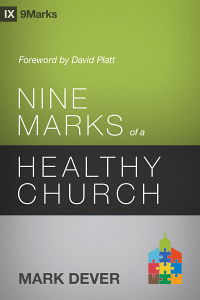 Nine Marks of a Healthy Church
Product Details
You may have read books on this topic before—but not like this one. Instead of an instruction manual for church growth, this classic text offers tried and true principles for assessing the health of your church. Whether you're a pastor, a leader, or an involved member of your congregation, studying the nine marks of a healthy church will help you cultivate new life and well-being within your own church for God's glory.
This classic guide has been recently revised to include a new foreword as well as updated content, illustrations, and appendices.
About the Author
Mark Dever (PhD, Cambridge University) is senior pastor of Capitol Hill Baptist Church in Washington, DC, and pastor of 9Marks Ministries. Dever has authored over a dozen books and speaks at conferences nationwide.
Endorsements
This one book has impacted and influenced my understanding of the church far above any other.
Be careful of the work you are now holding in your hand: it may change your life and ministry.
A foundational work that I highly recommend.
One of the very best, most readable, and useful books for learning how to lead a church into spiritual change.
This is the best book I have read on this topic of critical importance.
Few people today have thought more or better about what makes a church biblical and healthy.
It belongs in the hands of every faithful pastor and all those who pray for reformation in this age.
Required reading for my students in ecclesiology. Also, a great book for pastors to share with their congregations.
A biblical prescription for faithfulness.