Find this product on Logos.com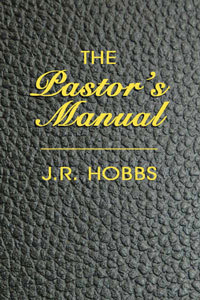 Product Details
The Pastor's Manual includes suggestions for when performing the various tasks of the pastor. Aimed to help the pastor on certain topics when he may not know what to say, it includes vital information and examples for all types of services and ceremonies.
The table of contents includes topics:
Notes on Conducting a Funeral
Funeral Service for General Purposes
Funeral Service for a Child
Funeral Service for a Young Man
Funeral Service for a Young Woman
Funeral Service for a Man or Woman in Middle Life
Funeral Service for Aged Man
Funeral Service for Aged Woman or Mother
Funeral Service for Non-Christian
Episcopal Funeral Service
Texts for Funeral Addresses
Poetry
Weddings
Notes on Ministerial Conduct at Weddings
Marriage Ceremonies
How to Organize a Church
Church Covenant
Articles of Faith
Order of Service for Organizing a Baptist Church
Officers of the Church
The Pastor
The Deacons
Other Officers
The Clerk
The Church- Its Business Session or Conference, The Deacons' Meeting, Its Public Worship, Its Reception of Members, Its Discipline of Its Members, Its Councils, Its Ordinances
Baptism
The Lord's Supper
Administration of Baptism
Administration of The Lord's Supper
Administration of the Ordinances and the Reception of Newly Baptized Members
Notes on Laying Corner Stone for Church Building
Laying a Church Corner Stone
Dedicating a Church Building
Check out a sample by clicking on the Sample button.