Find this product on Logos.com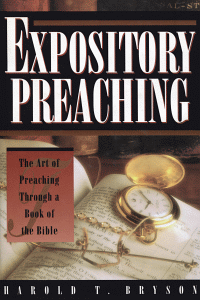 Expository Preaching
The Art of Preaching Through a Book of the Bible
Product Details
"What we need is an expository preacher."
Those words shocked the young prospective minister. As he sat through his interview with the search committee, he felt confident he could meet all of the church's expectations—except that one.
To the young minister, "expository preaching" was little more than term he had studied in seminary. He had an idea what the words meant. He might be able to recite an acceptable dictionary definition. But, he had no idea how to prepare and deliver a series of expository sermons.
Expository Preaching, bridges the gap between classroom and pulpit by helping new and prospective pastors understand the practical application of expository preaching. It equips with a clear understanding of:
Seven disciplines necessary for preaching through a Bible book.
Four homiletical guidelines for preaching from a Bible book.
Why preachers must understand the life situation of a Bible book.
How to analyze a Bible book.
How to exegete a Bible book.
How to move from exegesis to interpretation.
How to preach from the various literary genres that make up the Bible.
How to plot a Bible book in preparation for preaching from it.
How to structure biblical ideas from a Bible book.
Variations of sermon structure within a Bible book.
With chapter outlines and an extensive bibliography for further study, Expository Preaching is an effective textbook for college and seminary courses in preaching. With clear demonstrations of different ministers' expository preaching styles, it is an excellent resource for any preacher.