Find this product on Logos.com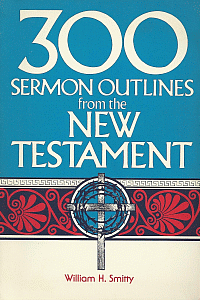 300 Sermon Outlines from the New Testament
Product Details
300 Sermon Outlines from the New Testament includes 300 crisp sermon outlines from the New Testament. Published in the 1980s, this volume has been out of print for many years and has become difficult to find.
Noted Baptist preacher William H. Smitty created sermon outlines with the intention of presenting preachers with fresh content that sermon material could be added to and preached on. This volume contains the best of the New Testament outlines Smitty created throughout his life. Some of the sermons are: "Saved and Secure, Victory Through Tragedy, A Scriptural Affidavit for Christians, Some 'Positive Negatives' of Christianity, Why the Incarnation, Witnesses of the Word, What's Happening?, Our Security in the Godhead, A Call to Unity, and Final Warnings of the Word.
All of the New Testament books of the Bible are represented in this work, and you'll find that many of these outlines are nicely alliterated.
Check out a sample by clicking on the Sample button.