Find this product on Logos.com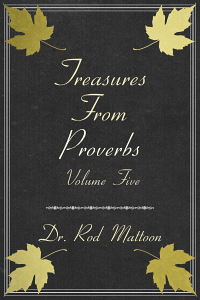 Treasures from Proverbs, Volume 5
Product Details
Rod Mattoon's Treasures series features an expository, verse-by-verse commentary with an emphasis on practical application. Each commentary is outlined in an alliterated style and features sermon illustrations that help illuminate the Bible text. Easy-to-understand Greek and Hebrew word studies assist the student in gaining a deeper understanding of Scripture. Topical and character trait studies are also included where pertinent to the passage being covered.
A sampling of chapters in this volume include:
Proverbs about the Heart
Proverbs on Impatience and Patience
Proverbs about our Priorities
Proverbs on Self Control
About the Author
Dr. Rod Mattoon has been preaching since 1972 and has served in his current pastorate at Lincoln Land Baptist Church since 1991. In Bible College and Seminary, Dr. Mattoon majored in Bible, and to this day he spends 20-25 hours per week studying the Word of God. In addition to serving as a pastor, writer, and student of the Word, Dr. Mattoon has also worked as a Bible Professor at the Springfield branch of the Moody Bible Institute.