Find this product on Logos.com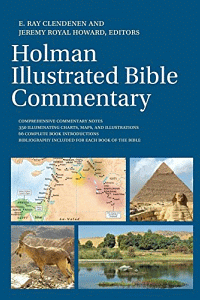 Holman Illustrated Bible Commentary
This title works with the following Wordsearch products
Desktop
Product Details
The Holman Illustrated Bible Commentary is a colorful and concise commentary covering the entire Bible. The editors know that some of what we read in the Bible is self-explanatory, but other passages are difficult and require help, much like when the apostle Philip assisted Ethiopian eunuch in Acts. So to bring clarity to all Bible passages, 45 top Bible scholars contributed to this 1,410-page commentary.
The authors of this work used the study notes of the HCSB Study Bible as a base. Because a study Bible has limited space, some passages received limited attention. The Holman Illustrated Bible Commentary gives additional commentary to fill in these gaps, making a more complete commentary.
For each book of the Bible, an introductory section gives an overview that introduces:
Circumstances of Writing
Author
Background
Message and Purpose
Contribution to the Bible
Structure
Outline
Illustrations, Artifacts, Maps, Reconstructions, and Photos Galore!
The Holman Illustrated Bible Commentary beautifully illustrates the text of the Bible. Over 300 maps, photos, charts, illustrations, and reconstructions illustrate the Bible commentary throughout. Fascinating artifacts and archaeological evidence is placed alongside the appropriate commentary text. You will discover that many Bible stories are illustrated by contemporary artists, as well as the great master painters like Leonardo Da Vinci and Rembrandt. All of this adds a refreshing visual experience to studies of God's Word.
About the Editors
Jeremy R. Howard, Ph.D., is Publisher of Bibles & Reference Books at B&H Publishing Group. He is also General Editor of the HCSB Study Bible and author of Understanding Jesus. He holds a Ph.D. in Christian Apologetics & Worldview Studies from Southern Baptist Theological Seminary.
E. Ray Clendenen, Ph.D. (University of Texas at Arlington) is the general editor the New American Commentary and authored the commentary on Malachi in that series. He was also the general editor of the series NAC Studies in Bible and Theology. He coauthored HCSB: Navigating the Horizons in Bible Translation. He was a coeditor of The Apologetics Study Bible and the HCSB Study Bible.
Check out a sample by clicking on the Sample button.