Find this product on Logos.com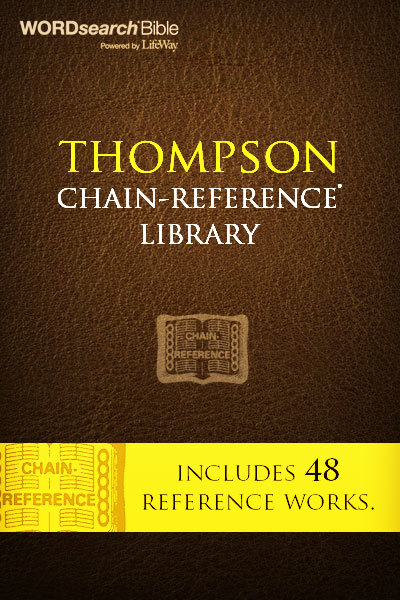 Thompson Chain-Reference Library
This title works with the following Wordsearch products
Desktop
Highlights
Discover what the Bible says on thousands of subjects
10 Bibles
48 Reference works in all
Compare multiple translations at once
Cross reference any verse or passage
Hear over 13,000 Greek and Hebrew words pronounced
ISBN 978-1-932213-48-5
UPC 636061-37096-9
Product Details
Early in his ministry as a Methodist Preacher, Dr. Frank Charles Thompson realized that the reference Bibles then on the market failed to present the Bible as it should be presented - in a clear, scholarly, interesting, yet simple and compact form. He saw the need for a well-organized reference Bible that would be of practical use to the layman as well as the minister.
He began his original research in 1890. After he completed the thought suggestions opposite the verses throughout the Bible, some of the men in his church saw his Bible and told him that this was what they needed to help them in their Bible study. They encouraged Dr. Thompson to have his Bible, with marginal references, published so that everyone could have the advantage of these helps in their Bible study.
In 1908, the first printing and binding of the first edition of the Thompson Chain-Reference Bible® was released by Methodist's Book Concern of Dobbs Ferry, New York.
Today, the Thompson Chain Study System® offers you a complete study library in one volume! With over 78 practical features for in-depth scriptural appreciation and understanding, nothing can match what the Thompson Chain-Reference Bible® offers.
Over 100,000 topical references
Over 8,000 Chain Topics
Updated Archaeological Supplement with photos and maps
Outline studies of each book of the Bible
Journey maps and Bible harmonies
Biblical Atlas
Bible Book Outlines
Over 4,000,000 Thompson Chain-Reference® Bibles sold!
In addition, this library also includes 10 Bibles and 48 Reference Works!
Endorsements
Few Bible study helps have been as universally used as the Thompson Chain-Reference.
When I entered Seminary I was given a Thompson Chain-Reference Bible. I soon learned that this study Bible was worth more to me than a pot of gold.
Products Included In This Bundle