Find this product on Logos.com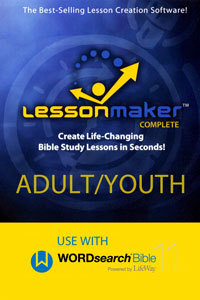 Lessonmaker Adult + Youth
Includes Lessonmaker Adult and Youth Kits
This title works with the following Wordsearch products
Desktop
Highlights
Combines the Lessonmaker Adult and Youth Kits, plus LifeChange Series, LifeGuide Series, and bonus volumes
An endless supply of lessons and materials for any group
Offers lessons for youth, women, and adults
For use in Wordsearch 11 & 12
Product Details
It's 9:15 Saturday night and you've just been asked to teach Sunday School tomorrow morning. No problem!
Lessonmaker takes the pressure out of preparing for Bible study lessons by letting you pull together customized Bible studies in a fraction of the time it takes to start from scratch.
You start with instant access to the thousands of questions, exercises, and activities from the various Lessonmaker kits. Assemble your lesson from this wealth of resources by simply pointing and clicking on items you want to use. Then add your own thoughts and questions, including material copied from other programs. Special lesson-formatting functions handle things like renumbering questions and inserting answer lines automatically. Print it out and you're done!
Here are some of Lessonmaker's unique features:
Customize lessons to maximize group impact
Build lessons based on topic, or key verse
Draw on insights from the most trusted leading Bible teachers/scholars
Add high quality photos and format your lesson for professional looking print outs
Share your lessons online effortlessly and download ready-to-use lessons created by others
Add colorful, high quality images to emphasize your points and make your lesson document even more appealing and attention-getting.
Take control of your lesson's look with the built-in, flexible word processor capabilities that enable you to add visual emphasis to your lesson.
Endorsements
I cannot imagine ever leading a Bible study again, without using this program to prepare.
Products Included In This Bundle