Find this product on Logos.com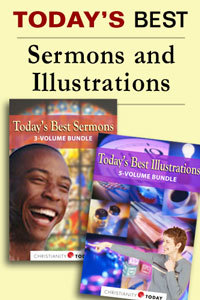 Today's Best Sermons and Illustrations Bundle
8 Volumes
This title works with the following Wordsearch products
Desktop
Product Details
The editors at Christianity Today and Leadership Journal are constantly surveying church leaders to develop resources for your ministry. Consequently, they have assembled Today's Best Sermons and Today's Best Illustrations from their decades of published resources. These are the sermons and illustrations that those in ministry have ranked as the best. This set is full of powerful truths, and belongs in every preacher and teacher's library.
156 Sermons by Some of Today's Best Preachers
These carefully selected sermons were preached by a Who's Who of evangelical preachers. Each volume is organized and searchable by Topic, Preacher, Bible Text, and Subject. You'll glean insights on how to preach on Truth and Freedom from Rick Warren, Stewardship and Generosity from John Maxwell, Suffering from Bill Hybels, Discrimination and Acceptance from Howard Hendricks, Missions and Witnessing from Luis Palau, Sin and Judgment from Ravi Zacharias, and much more.
Bonus Materials to Help You in Ministry
Each sermon offers you a Sound Clip. When you click on this link, you actually get to hear a few minutes of each sermon being preached. This is helpful because it gives you a sense of the original preacher's energy and timing. Plus, the Multimedia Preaching Workshop includes dozens of informative articles, audio, and video clips that let you hear and see how to improve your introductions, illustrations, expositions, and conclusions. You also get a wealth of preaching tips from Leadership Journal articles.
A Massive Supply of Illustrations for Sermons and Bible Lessons
This package also includes a 5-volume bundle of relevant illustrations for use with sermons and Bible lessons. For any conceivable topic, you're likely to find plenty of illustrations to drive your point home. Just look it up alphabetically in Wordsearch.
Many of these topics contain dozens of illustrations, each with several cross-referenced Bible verses hyperlinked in Wordsearch.
Check out a sample by clicking on the Sample button. Learn more about each included book by clicking on their book covers listed below.