Find this product on Logos.com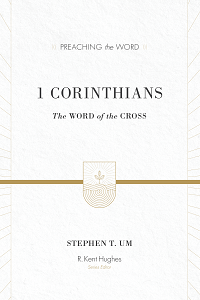 Preaching the Word - 1 Corinthians
The Word of the Cross
This title works with the following Wordsearch products
Desktop
Highlights
Noted for its commitment to Biblical authority
Clear exposition of scripture
Practical Application
Product Details
The issues addressed in the the book of 1 Corinthians are strikingly similar to the issues faced by the Church today: sin, pride, disunity, and confused identities. Paul warns the Corinthians with words of exhortation, but not without profound encouragement. In doing so, he points modern readers to the hope offered to Christians as they follow Jesus in a fallen world.
In this commentary, pastor Stephen Um uses powerful illustrations and practical applications to point readers and teachers of the Bible to the heart of Paul's first letter to the Corinthians: the gospel of Jesus Christ that has the power to save, change, and unite God's people.
About the Author
Stephen Um (PhD, University of St. Andrews) is senior minister of Citylife Church in Boston, Massachusetts, and president of the Center for Gospel Culture. He serves on the board of directors for the Gospel Coalition, is an adjunct faculty member at a number of theological seminaries, and is an associate training director for Redeemer City to City Asia. He is the author of several books and articles and the coauthor of Why Cities Matter.
About the Series Editor
R. Kent Hughes, Senior Pastor Emeritus of College Church in Wheaton, Illinois, earned his DMin from Trinity Evangelical Divinity School. He has authored numerous books for Crossway, including a number of volumes in the popular Preaching the Word series. He is also the series editor.
Endorsements
Stephen Um's dynamic ministry in downtown Boston is grounded in his faithful, weekly ministry of the Word of God. His experience there makes him an ideal expositor of 1 Corinthians, because today's secular city is an ideal context for understanding and applying the same gospel message that Paul first preached to the Christians in cosmopolitan Corinth.
1 Corinthians: The Word of the Cross is not only a journeyman's exposition of 1 Corinthians; it's also a demonstration of a culturally astute pastor at work. Stephen Um combines his pastor's heart, his disciplined mind, and his communicator's gifts to bring us a commentary that will remind the Church of the gospel Paul preached to us.
Stephen Um demonstrates the intellect of a scholar, the heart of a pastor, and the experience of the city to relate the truths of the gospel for city dwellers of the apostles' time that were no less cultured, urbane, or sophisticated than we imagine ourselves to be.