Find this product on Logos.com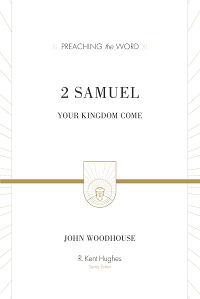 Preaching the Word - 2 Samuel
Your Kingdom Come
This title works with the following Wordsearch products
Desktop
Highlights
Noted for its commitment to Biblical authority
Clear exposition of Scripture
Full of practical applications
Product Details
King David stands as one of the most important figures of world history. From children's storybooks to Michelangelo's famous statue, ancient Israel's most famous king is still remembered and recognized by people around the world three thousand years after he lived.
In this commentary on the book of 2 Samuel, professor and former pastor John Woodhouse helps readers deepen their understanding of David's tumultuous reign by highlighting his place in salvation history—a history that began with Israel but now encompasses God's plan for the whole world. What's more, he shows that the concept of the kingdom of God is crucial to the whole storyline of the Bible . . . and for our lives today.
Designed as a trustworthy resource for pastors who preach and teach on a regular basis, this commentary makes the case that David's story is relevant because it lays the crucial foundation for the life and ministry of Jesus Christ, "the Son of David."
About the Preaching the Word Series
This Gold Medallion Award-winning series is noted for its unqualified commitment to Biblical authority, clear exposition of Scripture, readability, and practical application. What you get is a systematic explanation of each text in an easy-to-read and practical format. Each commentary is amplified with illustrations and applications that you can take right to the pulpit.
About the Author
John Woodhouse (DPhil, Victoria University of Manchester) served as principal of Moore Theological College in Sydney, Australia, from 2002 to 2013. Previously, he worked in pastoral ministry in a suburb of Sydney. He has published articles in various academic journals and is the author of two volumes in the Preaching the Word commentary series.
About the General Editor
R. Kent Hughes is Senior Pastor Emeritus of College Church in Wheaton, Illinois. Hughes is the author of numerous books and is also the editor and contributor for Preaching the Word series, including Mark: Jesus, Servant and Savior, which received the E.C.P.A. Gold Medallion Book Award for best commentary in 1990. Hughes served as Senior Pastor of College Church for 27 years and retired at the end of 2006. He came to Wheaton from California where he pastored two churches. He holds a BA from Whittier College, an MDiv from Talbot School of Theology, a DMin from Trinity Evangelical Divinity School and a DD from Biola University. Currently he lives in Washington state with his wife, Barbara, and he is the father of 4 and grandfather of 21 children.
Endorsements
Dr. Woodhouse's customary rigor with the text, combined with acute observation and wide-ranging Biblical and theological reflection, makes this commentary a must-have for any preacher of the book. The commentary does far more than explain the text, it feeds the soul. I could not recommend it more highly.
John Woodhouse's commentaries on 1 and 2 Samuel are not written to gather dust on the shelf. They are the rare commentaries worthy of being read cover to cover and are destined to be thoroughly underlined and oft quoted. Again and again Woodhouse helps readers see through the shadows of King David into the rule and reign of his greater Son, King Jesus.
Dr. Woodhouse is one of my favorite interpreters of Scripture. He has an uncanny ability to so carefully read a text, that you will see things you never noticed, only then to wonder why you had not seen them before. He does justice to a text in its own historical and literary contexts, while showing how it resonates with the whole story of the Bible. Finally, he is a master of conceiving preaching trajectories from the Old Testament for the edification of the church. These features, and more, characterize this outstanding volume on 2 Samuel. With its guidance, pastors will read, learn, and preach the message of 2 Samuel with greater depth of insight to the glory of the greater Davidic King.