Find this product on Logos.com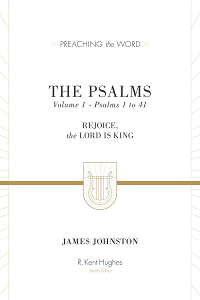 Preaching the Word - Psalms, Volume One
Rejoice, the Lord Is King
This title works with the following Wordsearch products
Desktop
Highlights
Noted for its commitment to Biblical authority
Clear exposition of Scripture
Full of practical applications
Product Details
The Psalms are treasured poetry that reflect the prayer and praise of ancient Israel. Every generation opens the Psalms for inspiration, comfort, hope, and encouragement.
They're also are a rich source of truth about God, humanity, and salvation. The authors of the New Testament understood this, quoting the Psalms more than any other Old Testament book to establish key doctrines. The Psalms tell the story of God's anointed king, his kingdom, and his people. They point forward to the Messiah—David's Greater Son who reigns forever and ever.
In the first volume of a three-volume commentary on the Psalms, pastor James Johnston walks readers through Psalms 1 to 41, offering exegetical and pastoral insights along the way. Accessible and engaging, this resource will help anyone interested in studying, teaching, or preaching the Bible read the Psalms in a deliberately canonical and Christ-centered way.
About the Series
This Gold Medallion Award-winning series is noted for its unqualified commitment to Biblical authority, clear exposition of Scripture, readability, and practical application. What you get is a systematic explanation of each text in an easy-to-read and practical format. Each commentary is amplified with illustrations and applications that you can take right to the pulpit.
About the Author
James Johnston (PhD, Trinity Evangelical Divinity School) is senior pastor of Tulsa Bible Church in Tulsa, Oklahoma and a visiting faculty member at Jordan Evangelical Seminary. He has led workshops on expository preaching for over 15 years and is an instructor for the Charles Simeon Trust. He and his wife, Lisa, have four children.
About the General Editor
R. Kent Hughes is senior pastor emeritus of College Church in Wheaton, Illinois. Hughes is the author of numerous books and is also the editor and contributor for Preaching the Word series, including Mark: Jesus, Servant and Savior, which received the E.C.P.A. Gold Medallion Book Award for best commentary in 1990. Hughes served as senior pastor of College Church for 27 years and retired at the end of 2006. He came to Wheaton from California where he pastored two churches. He holds a BA from Whittier College, an MDiv from Talbot School of Theology, a DMin from Trinity Evangelical Divinity School ,and a DD from Biola University.
Endorsements
Johnston is a pastor who rightly deserves the title 'pastor-scholar,' and his scholarly abilities and studies, as well as his pastoral sensibilities and sensitivities, are on full display in his commentary on the Psalms. As Johnston helps you exegete, illustrate, and apply the heart of the Old Testament in light of the person and work of Christ, I trust that your heart—like the men on the road to Emmaus—will burn within.
While being sensitive to the original historical context of the Psalms as the prayer and songbook of the Jews, Johnston is keenly aware that there is a Christocentric end to which the Psalms point and a Son in whom they find fulfillment. Because of this, Johnston recognizes all the Psalms are messianic, and understood in this way means the Psalms are also the Christian's prayer, song, and life book. Reading this commentary results in thanksgiving and worship. Johnston's excellent commentary is a great addition to the Preaching the Word series. I commend it to you as both an aid to your preaching and as a companion to your devotional reading and praying of the Psalms.
Psalms will be a treasured volume in this series. The original text is taken seriously and the gospel is made clear. In reading it, my own affections for Christ were delightfully energized. Johnston weds his love for God's poetry to his heart, which is so joyfully pledged to God's people.