Find this product on Logos.com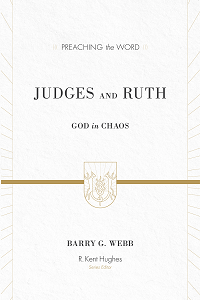 Preaching the Word - Judges and Ruth
God in Chaos
This title works with the following Wordsearch products
Desktop
Highlights
Noted for its commitment to Biblical authority
Clear exposition of Scripture
Full of practical applications
Product Details
The book of Judges powerfully demonstrates the chaos that can arise when sin reigns in people's hearts. In contrast, the book of Ruth offers a message of redemption and hope following disorder. Set in a time when everyone "did what was right in his own eyes," both books work together to highlight God's faithfulness in the midst of Israel's disobedience.
Exploring the stories of figures such as Gideon, Samson, Naomi, and Ruth, this accessible commentary emphasizes the countless ways God protected and preserved his people in the Bible. Experienced preacher Barry Webb explores important connections between Judges and Ruth, reminding us of God's promises to his people and offering practical applications for daily life—pointing us toward the hope of the coming King of kings, Jesus Christ.
About the Series
This Gold Medallion Award-winning series is noted for its unqualified commitment to Biblical authority, clear exposition of Scripture, readability, and practical application. What you get is a systematic explanation of each text in an easy-to-read and practical format. Each commentary is amplified with illustrations and applications that you can take right to the pulpit.
About the Author
Barry G. Webb (PhD, University of Sheffield) is the senior research fellow emeritus in Old Testament at Moore Theological College in Sydney, Australia. He is the author of numerous scholarly articles and books, including The Book of Judges and The Message of Isaiah. His work has been published in eight different languages.
About the General Editor
R. Kent Hughes is Senior Pastor Emeritus of College Church in Wheaton, Illinois. Hughes is the author of numerous books and is also the editor and contributor for Preaching the Word series, including Mark: Jesus, Servant and Savior, which received the E.C.P.A. Gold Medallion Book Award for best commentary in 1990. Hughes served as Senior Pastor of College Church for 27 years and retired at the end of 2006. He came to Wheaton from California where he pastored two churches. He holds a BA from Whittier College, an MDiv from Talbot School of Theology, a DMin from Trinity Evangelical Divinity School and a DD from Biola University. Currently he lives in Washington state with his wife, Barbara, and he is the father of 4 and grandfather of 21 children.
Endorsements
I have been instructed and often moved by these scholarly and pastorally perceptive expositions. Barry Webb opens up the texts carefully and accessibly, and does so with the sensitivity of an experienced pastor. Such pastoral scholarship is powerful and edifying.
Expository preaching involves much more than defining Hebrew and Greek words, or cool and collected explanations of obscure issues raised by biblical texts. It involves grasping both the theological message of the Scriptures and letting that message grasp us who preach week in and week out. Barry Webb is not only the finest interpreter of the book of Judges; he is also the book's finest expositor. His presentation of the principle enduring theological points of each literary unit in Judges and Ruth is clear, practical, and passionate. This book is a great gift first to preachers, but ultimately to God's people who will hear from them the living and life-giving Word of the Lord from these books.
These are insightful, stimulating, often challenging expositions from the pen of a great exegete and preacher.