Find this product on Logos.com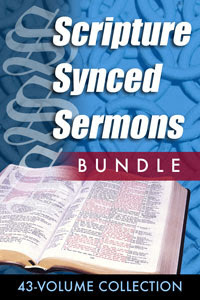 Scripture-Synced Sermons Set
43 Volumes
This title works with the following Wordsearch products
Desktop
Highlights
43 Volumes that Sync with Scripture
Product Details
Sometimes, when creating a sermon, writer's block hits, or the specific point you want to make seems to elude you, or you have trouble outlining your sermon. Have you ever wished you could see the opinion of another pastor on the topic you're studying to help nudge you over the block?
Wordsearch publishes sermons from prominent preachers, and reading them can give you training from some of the best preachers in the world, past and present. Currently, 13 sets of our published sermons will sync with Scripture. This helps you quickly navigate to sermon content based on the Scripture you're analyzing. By doing this, it helps you see how the preacher divided up Scripture, and how they preached on that verse.
The Scripture-Synced Sermons Set includes 13 of our most popular sermon collections that include this feature.
Scripture-synced sermons allow you to find great ideas by some of history's finest preachers with the click of a button. As a result, your sermon prep time is greatly reduced. This is an excellent way to find fresh inspiration from renowned preachers and their sermons. And syncing makes it easier than ever to find just the material you're looking for.
If you own any of these sermons already, simply go to Help, Check for Book Updates, then choose the sermons you want to update. This added functionality is free.
View the video below for more info.
To see this feature in action, check out our Pastor/Teacher's Toolkit on Scripture-Synced Sermons on the blog.
Products Included In This Bundle