Find this product on Logos.com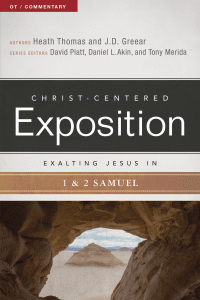 Christ-Centered Exposition: Exalting Jesus in 1 & 2 Samuel
Product Details
Exalting Jesus in 1 & 2 Samuel is part of the Christ-Centered Exposition Commentary series. This series affirms that the Bible is a Christ-centered book, containing a unified story of redemptive history of which Jesus is the hero. It's presented as sermons, divided into chapters that conclude with a "Reflect & Discuss" section, making this series ideal for small group study, personal devotion, and even sermon preparation. It's not academic but rather presents an easy-reading, practical, and friendly commentary.

About the Series
Edited by David Platt, Daniel L. Akin, and Tony Merida, this new commentary series, projected to be 48 volumes, takes a Christ-centered approach to expositing each book of the Bible.
Rather than a verse-by-verse approach, the authors have crafted chapters that explain and apply key passages in their assigned Bible books. Readers will learn to see Christ in all aspects of Scripture, and they will be encouraged by the devotional nature of each exposition.

About the Authors
J. D. Greear is lead pastor of The Summit Church, a multi-site congregation in Raleigh-Durham, North Carolina. He holds an M.Div. in International Church Planting and a Ph.D. in Systematic Theology from the Southeastern Baptist Theological Seminary. Greear also lived and worked among Muslims in Southeast Asia for two years and wrote Breaking the Islam Code. He and his wife have four children.

Heath Thomas (Ph.D, University of Gloucestershire, UK) is dead of the Herschel H. Hobbs College of Theology and Ministry, Associate Vice President for Church Relations, and Professor of Old Testament at Oklahoma Baptist University. He is author of Faith Amid Ruins: The Book of Habakkuk, Poetry & Theology in Lamentations: The Aesthetics of an Open Text, and other books. Dr. Thomas has served churches in Oklahoma, Texas, North Carolina, and the United Kingdom, and was an elder at the Summit Church in the Raleigh-Durham metroplex prior to his move to Oklahoma.
Endorsements
We need more preaching and teaching on 1 and 2 Samuel in our churches, and Greear and Thomas have written exactly the right kind of commentary to help pastors and others bring the life-changing message of these books, with their focus on the captivating figure of King David, to Christians in the twenty-first century. Based on solid academic research and their own impressive interpretative sensitivity and ability, the authors show how relevant these books are for the Christian life, and, most importantly, how these books point to Christ.
This commentary is distinctive in that it continuously situations the books of Samuel in the fundamental storyline of Scripture, which climaxes in the death and resurrection of Jesus Christ. It deals faithfully with the text and unlike many commentaries is replete with application to the world in front of the text. The book is rich with insight and practical application, but avoids moralizing, always seeking to show the events in the lives of the key figures in the biblical books in the light of the gospel. It is an honor for me to recommend this commentary.