Find this product on Logos.com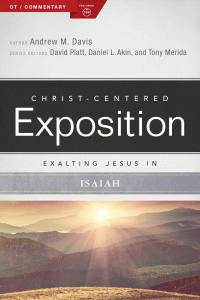 Christ-Centered Exposition: Exalting Jesus in Isaiah
Product Details
"This series affirms that the Bible is a Christ-centered book, containing a unified redemptive history of which Jesus is the hero. We purpose to exalt Jesus from every book of the Bible. In doing this, we are not commending wild allegory or fanciful typology. We must be constrained to the meaning intended by the divine Author Himself, the Holy Spirit of God. However, we also believe that the Bible has a Messianic focus, and the authors in this series will exalt Christ from all of their texts." - Series Editors
About the Series
Edited by David Platt, Daniel L. Akin, and Tony Merida, this new commentary series, projected to be 48 volumes, takes a Christ-centered approach to expositing each book of the Bible.
Rather than a verse-by-verse approach, the authors have crafted chapters that explain and apply key passages in their assigned Bible books. Readers will learn to see Christ in all aspects of Scripture, and they will be encouraged by the devotional nature of each exposition.
It's presented as sermons, divided into chapters that conclude with a "Reflect & Discuss" section, making it ideal for small group study, personal devotion and sermon preparation. It's not academic. Our aim is to present an easy reading, practical and friendly commentary.

About the Author:
Dr. Andrew Davis (Ph.D. Southern Baptist Theological Seminary, Louisville, KY) is senior pastor of First Baptist Durham, NC, where he has served since 1998. In 2005 he also joined Southeastern Seminary as Visiting Professor of Historical Theology. He presently serves on the board of The Gospel Coalition and is a trustee of the IMB. He is the author of An Infinite Journey and An Approach to the Extended Memorization of Scripture. He and his wife Christi reside in Bahama, NC, and have five children.
Endorsements
As a part of the Christ-Centered Exposition series, Andy Davis' devotional commentary on Isaiah fits well. I have known Dr. Davis for many years and he is one of the most careful, thoughtful, biblically-centered theologians I know. Davis well affirms Christ in Isaiah, and ties in the unified story of redemptive history of which Jesus Christ is preeminent. The book contains easy to read, rich, practical, sermonic presentations of each chapter of Isaiah that will be a great resource for any pastor or teacher working through his prophecy.
Without a doubt Isaiah is one of the most important books in the Old Testament, and the New Testament use of Isaiah gives it a particular significance. Andy Davis's commentary is a helpful addition to studies on Isaiah at several levels. He takes seriously the historical message of Isaiah so that he doesn't simply leap to the New Testament and avoid the Old Testament context. At the same time, the fulfillment of Isaiah in the New Testament receives careful and wise attention. Finally, Davis applies the message of Isaiah to today's world. I recommend this work enthusiastically.