Find this product on Logos.com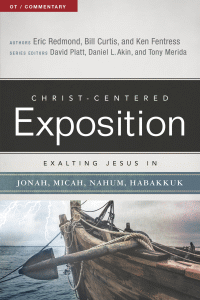 Christ-Centered Exposition: Exalting Jesus in Jonah, Micah, Nahum, Habakkuk
Product Details
This series affirms that the Bible is a Christ-centered book, containing a unifed redemptive history of which Jesus is the hero. We purpose to exalt Jesus from every book of the Bible. In doing this, we are not commending wild allegory or fanicful typology. We must be constrained to the meaning intended by the divind Author Himself, the Holy Spirit of God. However, we also believe that the Bible has a Messianic focus, and the authors in this series will exalt Christ from all of their texts." - Series Editors
About the Series
Edited by David Platt, Daniel L. Akin, and Tony Merida, this new commentary series, projected to be 48 volumes, takes a Christ-centered approach to expositing each book of the Bible.
Rather than a verse-by-verse approach, the authors have crafted chapters that explain and apply key passages in their assigned Bible books. Readers will learn to see Christ in all aspects of Scripture, and they will be encouraged by the devotional nature of each exposition.
It's presented as sermons, divided into chapters that conclude with a "Reflect & Discuss" section, making it ideal for small group study, personal devotion and sermon preparation. It's not academic. Our aim is to present an easy reading, practical and friendly commentary.

About the Authors:
Eric C. Redmond is an assistant professor of Bible at Moody Bible Institute in Chicago, Illinois and Pastor of Adult Ministries at Calvary Memorial Church, Oak Park, Illinois. He holds a Th.M. from Dallas Theological Seminary and is the author of Where Are All the Brothers? Straight Answers to Men's Questions About the Church.

William J. Curtis is the Senior Pastor of Cornerstone Baptist Church, in Darlington, South Carolina. He is a co-founder of The Pillar Network for Church Planting in Raleigh, North Carolina. He is an adjunctive professor at the Liberty University School of Divinity and Southeastern Baptist Theological Seminary, where he earned his Ph.D. in Homiletics. He is an award-winning author of Engaging Exposition and 30 Days to James.

Ken Fentress has served as the Senior Pastor of Montrose Baptist Church in Rockville, Maryland since 2007. He formerly served as Dean of Intercultural Programs and Associate Professor of Hebrew and Old Testament Interpretation at The Southern Baptist Theological Seminary in Louisville, Kentucky. He has served in several pastoral and teaching positions.
Endorsements
What you will find in these pages is not exposition done in abstraction, but the Christ-centered focus of faithful men who reflect men who reflect and apply these truths in their ministries, their families, and their own lives.
Through these prophets, God rebuked Israel for her sins, encouraged her in the face of her enemies, and promised her a coming Savior. This remarkably helpful commentary shows how we are to view God's dealing with Israel through the lens of the gospel, and then make faithful application to the people of God today.
Each of the authors in this volume loves Christ and his Bride. They also love pastors and provide a wealth of wisdom and textual insights to delight any preaching in his study. May this work lead many readers to worship the just and merciful Lord.