Find this product on Logos.com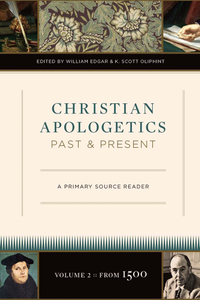 Christian Apologetics Past and Present: Volume 2, From 1500
A Primary Source Reader
Product Details
Amid a revival of apologetics, "few things could be more useful than an acquaintance with how Christian faith was defended down through the ages," say the editors in their introduction to this two-part anthology. "Access to both historical and contemporary texts gives us fresh insight into how our fathers in the faith responded to the questions facing them."

Volume 2 in this one-of-a-kind resource takes a sweeping look at apologetics from the Reformation to the present. Readings from twenty-six apologists, including Martin Luther, John Calvin, Blaise Pascal, Jonathan Edwards, Søren Kierkegaard, Francis Schaeffer, Alvin Plantinga, and William Lane Craig are included. With editorial commentary and questions for reflection, Christian Apologetics Past and Present will prove a valuable text for students as well as a unique resource for those interested in defending the faith.

About the Editors:
William Edgar (DTheol, University of Geneva) is professor of apologetics and John Boyer Chair of Evangelism and Culture at Westminster Theological Seminary. William lives in Philadelphia, Pennsylvania, with his wife, Barbara. They have two children and three grandchildren.

K. Scott Oliphint (PhD, Westminster Theological Seminary) is professor of apologetics and systematic theology at Westminster Theological Seminary in Philadelphia and has written numerous scholarly articles and books, including God With Us. He is also the co-editor of the two-volume Christian Apologetics Past and Present: A Primary Source Reader and Revelation and Reason: New Essays in Reformed Apologetics.
Endorsements
Understanding apologetics as explicating, affirming, and vindicating Christianity in the face of uncertainty and skepticism, Edgar and Oliphint have skillfully selected the best primary sources to introduce us to this ongoing task. Their work fills a gap in scholarly resources and highlights the strength, wisdom, and solidity of the prominent defenders of our faith.
This series on the classical traditions of Christian apologetics is, to my knowledge, unmatched in basic compendia. It will equip and encourage thoughtful Christians to develop equally compelling defenses of the faith in our post-Enlightenment, post-Romantic, post-Postmodern era where global interdependencies plunge many into new varieties of suspicion, contempt, and hostility that demand reasonable and faith-filled encounter, dialogue, and debate.