Find this product on Logos.com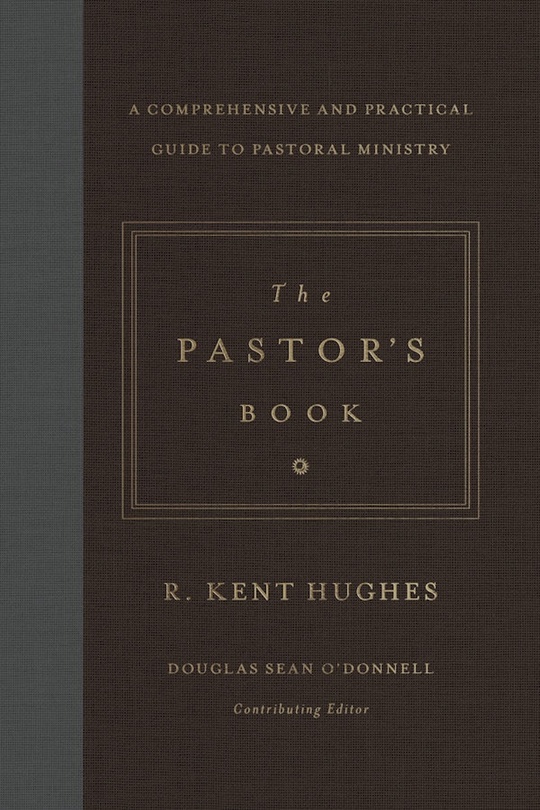 The Pastor's Book
A Comprehensive and Practical Guide to Pastoral Ministry
Product Details
As a pastor, you are tasked with an incredibly demanding job. Not only do you have to create meaningful sermons each week, but you are also responsible for the spiritual, emotional, and physical needs of your congregation both within the walls of the church and beyond.
The Pastor's Book: A Comprehensive and Practical Guide to Pastoral Ministry was written by two experienced pastors in order to become a theologically-informed, go-to, one-stop resource crammed full of examples and ideas for the day-to-day pastoral ministry of the gospel. Believing the day-to-day ministry of the pastor is meant to be wholly gospel-infused, The Pastor's Book will show you how to integrate the gospel into all of your responsibilities, from officiating weddings to visiting the sick.

Focusing on topics that are often neglected or overlooked, Part 1 includes Christian Gatherings, such as Sunday Worship and Weddings, Part 2 includes Parts of the Worship Service, such as Communion and Hymns and Songs, and Part 3 include Ministerial Duties, such as hospital visitation. The appendix includes sample wedding services. Part 1 also includes a section called "Enrichment" filled with some of the finest Christian poems in the English language, meant to carefully elevate your preaching of the Word.
In Wordsearch, this book becomes even more helpful. If you need help with a certain topic, all you have to do is type in "Funeral," for example, and all the chapters will be filtered down to ones containing what you need.
The Pastor's Book
in Wordsearch will also be available for consulting no matter where you are when using your mobile device or the cloud site, so you'll never be without the help you need.
About the Author:
R. Kent Hughes (DMin, Trinity Evangelical Divinity School) is senior pastor emeritus of College Church in Wheaton, Illinois, and professor of practical theology at Westminster Theological Seminary in Philadelphia, Pennsylvania. Hughes is also a founder of the Charles Simeon Trust, which conducts expository preaching conferences throughout North America and worldwide. He serves as the series editor for the Preaching the Word commentary series and is the author or coauthor of many books. He and his wife, Barbara, live in Wyncote, Pennsylvania, and have four children and an ever-increasing number of grandchildren.
About the Editor:
Douglas Sean O'Donnell (MAs, Trinity Evangelical Divinity School and Wheaton College) is a senior lecturer in biblical studies and practical theology at Queensland Theological College in Brisbane, Australia, after spending nearly twenty years in pastoral ministry. He is currently obtaining his doctorate at Trinity College Bristol through the University of Aberdeen. He is the author of a number of books, including
The Beginning and End of Wisdom
,
The Song of Solomon
and
Matthew
in the Preaching the Word commentary series, and
Psalms
in the Knowing the Bible series.
Endorsements
This is an immensely helpful, Scripture-saturated resource for busy pastors, explaining the practical 'how to's' of leading weddings, funerals, baptisms, the Lord's Supper, personal counseling, and weekly worship services. It reflects the accumulated wisdom of decades of ministry, and it comes from the pen of a godly, wise senior pastor for whom I have the highest appreciation and respect.
The Pastor's Book should be on the shelf of every young preacher heading out into gospel ministry. It is a resource volume—meant to guide you into good practice and provide you with language for a variety of pastoral settings. Its success comes from the authors' mutual hallmark of disciplined and careful preparation.
This is an invaluable resource for every pastor or church leader, at whatever stage of life and ministry. Full of biblical and theological insights, practical applications, and excellent examples, it will become an essential companion and guide for a multitude of ministry opportunities and challenges.
Veteran pastors Kent Hughes and Douglas O'Donnell have given us a wonderful, biblically anchored, gospel-centered resource. This is an invaluable, go-to treasure for busy pastors. From invocations to benedictions and from weddings to funerals, this volume is a very helpful guide in confidently exercising our duties as ministers of the gospel. What a gift!
I wish I had had this book when I began my ministry as a pastor! It pulls back the curtain to show us what we need to know about our calling and the expectations of our people. It gives a breadth and context to pastoral responsibilities I've not see in other similar books.
The Pastor's Book is a remarkable resource, forged over four decades of Hughes' pastoral experience. It is historically informed, biblically grounded, thoroughly Christ-centered, and imminently practical. This is a book that the new pastor and the veteran minister alike will return to again and again as they press through the crucible of pastoral ministry.
Pastors must be prepared for almost any imaginable situation. From weekly sermons and counseling to hospital visitations and funerals, the pastoral tasks vary from day to day, even from hour to hour. Kent Hughes provides the type of theologically rich handbook every minister needs on his shelf. Hughes is a sagacious guide to the many facets of pastoral ministry, and his program for ministry is deeply rooted in Scripture. I am confident that pastors will be greatly served by this book and better equipped for faithful ministry in every avenue of life.