Find this product on Logos.com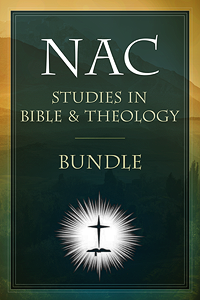 New American Commentary Studies in Bible & Theology Bundle
11 Volumes
Product Details
If you preach, teach, or serve others in ministry, you know how important theology can be. As Christian leaders, it's important to know what's in our Bibles, and it's critical that we stand firm on the solid theology that it contains.
The New American Commentary Studies in Bible & Theology
This 11-volume bundle comes from the publishers of the best-selling New American Commentary. In fact, this series is the ideal supplement for those who use and love the NAC. Each volume takes you deep into a crucial topic of theology. Top evangelical Bible scholars immerse you in each of these topics, guiding you through the Bible. They use the Bible's own text to weave theological understanding that you can teach others with the confidence of God's Word.
Theology Can Be Inspiring & Rewarding to You and Others
Here's a great example: Check out Enthroned on Our Praise, and you'll be inspired by the theology of worship. Author Timothy Pierce takes you on a journey of what worship is, why it's important and how it is manifested from the creation in Genesis through the Pentateuch, Prophets, and Poetry, covering everything you'll find in the Old Testament. As you study this theological topic, the reality of worship comes together in a way that may have escaped you before.
See these volumes in Wordsearch in the demo video below:
About the Editor
E. Ray Clendenen, Ph.D. (University of Texas at Arlington) is the general editor the New American Commentary and authored the commentary on Malachi in that series. He was also the general editor of the series NAC Studies in Bible and Theology. He coauthored HCSB: Navigating the Horizons in Bible Translation. He was a coeditor of The Apologetics Study Bible and the HCSB Study Bible.
Products Included In This Bundle