Find this product on Logos.com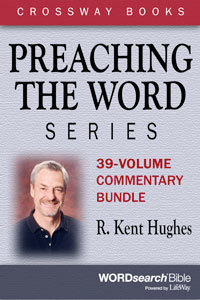 Preaching the Word 39 Volume Commentary Series
Highlights
Named as one of the 850 Books for Biblical Expositors by the Master's Seminary
Noted for its commitment to Biblical authority
Clear exposition of scripture
Full of practical applications
Product Details
The Preaching the Word Commentary Series is an award-winning commentary, specifically written to serve those who preach. Edited by Dr. R. Kent Hughes, a renowned Bible scholar who also pastored a church for 27 years, this series is highly praised and was named as one of the 850 books for Biblical Expositors by the Master's Seminary.
Noted theologian J.I. Packer tells us that throughout the history of the church, "working pastors have been proving themselves to be the best of all Bible expositors. Kent Hughes stands in this great tradition and his exciting expositions uphold it worthily."
Not only a respected Bible scholar, Dr. Hughes is also a gifted writer. Instead of dissecting each and every word in his commentary, Dr. Hughes describes each Bible passage in a way that's easy to visualize. His thoughts flow effortlessly and make reading his inspiring scholarship easy.
In his introduction, Dr. Hughes has a lot to say about preaching in a way that is pleasing to God. He says that with the right frame of mind, "we will not be preaching our own thoughts about God's Word, but God's actual Word, his logos. This is fundamental to pleasing him in preaching." Dr. Hughes certainly practices what he preaches.
Whether the writer or editor, Dr. Hughes gives each passage the exact amount of attention it deserves. For example, Genesis 49 is the chapter where the dying patriarch, Jacob, gathers his 12 sons for the blessing. Dr. Hughes devotes several chapters of his commentary to narrate this blessing. He details the blessings and curses delivered to each son, explaining the meaning of each phrase. He alerts us to words of prophecy, and then he leads us forward in the Bible to see where each prophecy was fulfilled.
This bundle covers all of the New Testament and much of the Old Testament. Beyond the commentary, each volume is filled with illustrations and applications that you can use in sermon creation.
Check out a sample by clicking on the Sample button. Learn more about each volume by clicking on the book cover images below.
About the General Editor
R. Kent Hughes is senior pastor emeritus of College Church in Wheaton, Illinois. Hughes is the author of numerous books and is also the editor and contributor for Preaching the Word series, including Mark: Jesus, Servant and Savior, which received the E.C.P.A. Gold Medallion Book Award for best commentary in 1990. Hughes served as senior pastor of College Church for 27 years and retired at the end of 2006. He came to Wheaton from California where he pastored two churches. He holds a BA from Whittier College, an MDiv from Talbot School of Theology, a DMin from Trinity Evangelical Divinity School ,and a DD from Biola University.
Endorsements
This series will minister to a pastor's soul as well as give him an immense resource for his preaching. And it will minister to the parishioner wonderfully in personal Bible study. The reader will be filled with fresh thoughts about our Lord as well as joyful encouragement for himself. That is what happened to me in reading this.
With this series, evangelicalism may now claim its own William Barclay. While remaining true to the text and its original meaning, Dr. Hughes helps us face the personal, ethical, theological, and practical questions which the text wants to answer in the presence of living God and his illuminating Holy Spirit.
The Preaching the Word Commentary is one of my favorites. The focus upon explaining the text with preaching it as the goal makes the series resonate with the priorities of the pulpit. No academic aloofness here, but down-to-earth, preacher-to-preacher meat for God's people.
The single best resource for faithful biblical exposition today. A great boon for genuine reformation!
Throughout the Christian centuries, from Chrysostom and Augustine through Luther, Calvin, and Matthew Henry, to Martyn Lloyd-Jones and Ray Stedman, working pastors have been proving themselves to be the best of all Bible expositors. Kent Hughes stands in this great tradition, and his exciting expositions uphold it worthily.
Products Included In This Bundle