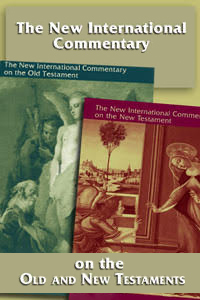 New International Commentary on the Old and New Testaments
47 Volumes
Highlights
Critical yet orthodox commentary marked by solid biblical scholarship within the evangelical Protestant tradition
Newer volumes take the role of recent rhetorical and sociological inquiry into account
Highly regarded by theologians, preachers, and Bible students
Product Details
The New International Commentary (NIC) combines readability with expert scholarship and is highly regarded by theologians, preachers, and Bible students. The volumes in this commentary bridge the gap between today's world and that of Bible times.
Each commentary opens with an introduction to the biblical book and examines its background, authorship, date, purpose, structure, and theology. The authors, who are world-renowned biblical authorities, provide their own translation from the original language to form the basis of the commentary proper. Verse-by-verse comments nicely balance in-depth discussions of technical matters. What follows is a scholarly explanation of the text and its implications for today's application.
The original Hebrew, Aramaic, and Greek texts are carefully studied, and critical comments are footnoted. Plus, all grammatical, textual, and historical details are appended. The commentary proper incorporates this information in a way that aids your understanding of the text.
The contributors to the NIC aim to help you understand God's word as clearly as possible.
About the Old Testament Series Editor
Robert L. Hubbard Jr. is Professor of Biblical Literature at North Park Theological Seminary, Chicago. He chaired the team of translation consultants for The Message by Eugene Peterson, and his books include the award-winning NICOT volume on the book of Ruth.
About the New Testament Series Editor
Gordon D. Fee is professor emeritus of New Testament studies at Regent College, Vancouver, British Columbia. His numerous works include the highly acclaimed volume on Philippians in this series.
Products Included In This Bundle