Find this product on Logos.com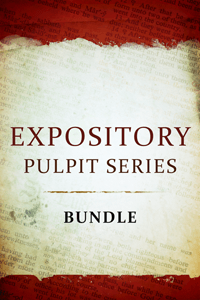 Expository Pulpit Series Bundle
26 Volumes
Highlights
Alliterated—Practical—Expository
26 volumes
Written from a dispensational perspective
Product Details
The Expository Pulpit Series provides 26 volumes of chapter-by-chapter alliterated commentary that will help your preaching and teaching become more effective and memorable. The volumes in this series are written with the preacher in mind.
The author of this series, Dr. Glen Spencer, has been an expository preacher for over 30 years and currently serves as pastor of Vernon Baptist Church in Pennsylvania. Dr. Spencer is a gifted preacher and author. He clearly outlines Scripture with beautifully alliterated points and subpoints. He then fills in the details with insightful commentary, illustrations, and applications.
Most of us who preach or teach the Bible appreciate great alliteration. But, creating alliteration is hard, time-consuming work. If you preach or teach, you will find Spencer's work gives you a tremendous head start in building sermons and lessons.
For example, in the volume on Hebrews, Spencer devotes nine chapters on Hebrews 11, the "Faith Chapter." Each of these chapters could provide material for single sermons or a series of series. These chapters are titled:
The Way of Faith (v. 1-3, 6)
The Worship of Faith (v. 4)
The Walk of Faith (v. 5)
The Work of Faith (v. 7)
The Willingness of Faith (v. 8-10, 17-19)
The Wonder of Faith (v. 11-12)
The Waiting of Faith (v. 13-16)
The Withstanding of Faith (v. 23-29)
The Warfare of Faith (v. 30-40)
The chapter titled The Waiting of Faith covers verses 13-16. It's the passage that begins with "These all died in faith without having received the promises..." Dr. Spencer outlines this section with the following points, each with detailed commentary:
A Patient Faith
A Perceptive Faith
A Persuaded Faith
A Professing Faith
A Persistent Faith
A Passionate Faith
A Parting Faith
These commentaries contain crisp outlines, thoughtful exposition, and beautiful alliteration that will stay in the mind and touch the heart.
Check out a sample of this series by clicking on the Sample button.
About the Author
Glen Spencer Jr. serves as Pastor of Vernon Baptist Church in Northeastern Pennsylvania. In addition to his primary work as pastor, Dr. Spencer speaks regularly at Bible conferences and revival meetings around the country. He is the author of over thirty-five books and booklets, including the Expository Pulpit Series.
Endorsements
Pastor Spencer is not only a gifted preacher, but a gifted writer as well. As a fundamentalist and pastor, I am careful about the books I endorse, but Dr. Spencer is at the top of my list of writers. So, it is with great honor that I recommend his Expository Pulpit Series to you.
Dr. Glen Spencer's Bible commentaries are valuable for today. They are expository, edifying and exciting in aiding the Christian, the teacher and the preacher to understand the mind of God and to become victorious in their daily lives. I will use the complete set.
It is with great delight that I recommend to you, "The Expository Pulpit Commentary Series." Dr. Glen Spencer Jr. combines years of exhaustive research and practical ministry experience to bring to the church, the pastor, the teacher, and the student of the Scriptures a sound, in-depth and yet very practical set of study tools. This ongoing, verse-by-verse commentary series will be a great addition to your library. This is not just more rehashed information but wise insight from a seasoned Bible Scholar. This trustworthy commentary series is, Dispensational in theology, pre-Tribulation and pre-millennial in its eschatology, literal in its hermeneutical approach and expository in its format. I am thrilled that this good work is now available to you and I as we seek to benefit from its invaluable help to deepen our knowledge of God's perfect, preserved word.
Products Included In This Bundle