Find this product on Logos.com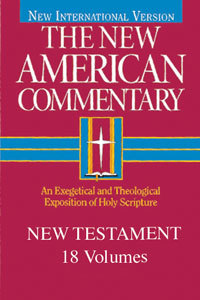 New American Commentary New Testament Bundle (17 Vol)
Highlights
Thorough verse-by-verse analysis
Over 40 scholars worked on the complete set
Insightful and technical aimed at the serious Bible scholar, yet accessible to the layperson
Great for the pastor or serious Bible student
17 Volumes of the New Testament Included
Named as one of the 850 Books for Biblical Expositors by the Master's Seminary
Product Details
"God's Word does not change. God's world, however, changes in every generation." - NAC Editors
The New American Commentary (NAC) is a carefully developed, evangelical commentary that makes God's Word relevant to our world today. The perspective of the NAC is unapologetically confessional and rooted in the evangelical tradition. It affirms the divine inspiration, inerrancy, complete truthfulness, and full authority of the Bible.
Written to be understood by those with no advanced training, the NAC is a readable, up-to-date commentary. But, it also provides insight for scholarly students who want to go deep into the original languages.
To keep the commentary accessible and useful for everyone, the NAC puts points relating to contemporary scholarship and technical points of grammar and syntax in the footnotes. This keeps the commentary easy to read, yet the deeper detail is there, out of the way for those who want to study it.
The NAC is packed with these footnotes. In Wordsearch, you can hover over one of these footnotes and the footnotes text will pop-up in a separate window. If you click on the footnote, it will appear within your text so you can copy and paste the information.
The writers seek to illuminate both the historical meaning and contemporary significance of Holy Scripture. Based on that desire, the editors selected the New International Version as the standard translation for the series. The full text of the NIV is found at the beginning of each commentary section.
The work on the NAC began in the 1980s and continues to this day. (Ephesians and 2 volumes of Psalms are the last three books not yet completed.) The insights provided in this commentary will be your guide through the Bible, and will be helpful for preaching and teaching.
Check out a sample of this commentary by clicking on the yellow "Sample" button under the book cover on this page.
Endorsements
This commentary peels back the cultural skin wisdom literature appears to have, revealing undetected but usable truths for people in our pressured times. It makes Bible sense into common sense for today
Products Included In This Bundle