Find this product on Logos.com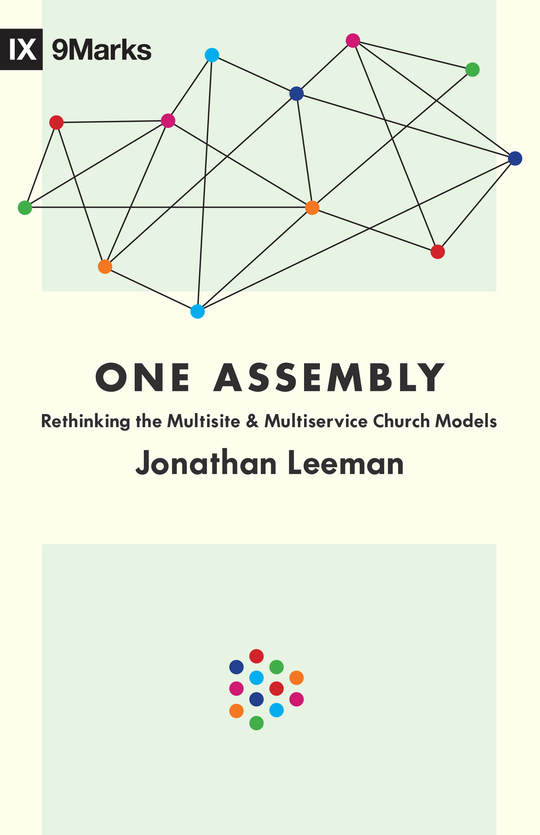 9Marks: One Assembly
Rethinking the Multisite and Multiservice Church Models
Product Details
Maybe you have been there: you're running late to church, and you know it will be hard to find an empty seat. This is an all-too-frequent experience in a growing church. For churches experiencing this dilemma, a common solution is to add another service or location. This seems like a cost-effective fix. Besides, no one wants to turn away non-Christians. But is it the best option?
Jonathan Leeman presents a series of biblical, theological, and pastoral arguments to help reorient our minds to a scriptural definition of church. He makes the case that maintaining a single assembly best follows the Bible, fulfills the Great Commission, and furthers our partnership with other churches.

About the Author:

Jonathan Leeman (PhD, University of Wales) is the editorial director for 9Marks. He is the author or editor of over a dozen books and teaches at several seminaries. Jonathan lives with his wife and four daughters in a suburb of Washington, DC, and is an elder at Cheverly Baptist Church.
Endorsements
Evangelical churches that are multisite or multiservice are like that for good-intentioned, pragmatic reasons. Jonathan Leeman challenges us to think exegetically and theologically about a popular practice that may not be as strategic as so many assume.
Too often we don't think about what it means to be a church or to do church together. Jonathan Leeman's book, therefore, might shock our pragmatic and individualistic sensibilities. Still, Leeman makes an excellent case that the word church in the Scriptures means 'assembly,' and that two assemblies are by definition two churches. The matter is complex and people who love the Scriptures disagree, but I think Leeman's case is the most plausible.
One Assembly is more than a critique of the multiservice and multisite movement. Leeman persuasively argues for the biblical faithfulness, beauty, and effectiveness of a single church service. Instead of slowing down gospel growth, the single-service model actually promotes the Great Commission by encouraging church planting. This is a must-read for anyone interested in church growth.
Jonathan Leeman clearly loves the church. He loves it enough to lay out here, with clarity and compassion, the one-assembly model that Scripture so consistently presents. Eminently engaging and stemming from deep personal experience, this book helpfully shows us not only what Scripture says a 'church' is but also how churches with multiple sites or services can move toward a single gathering. Leeman's carefully considered treatment is timely and relevant to all Christians, not just pastors and scholars.
Leeman convincingly shows from Scripture and plain reason that a mark of the local church is one assembly, and churches do well to practice this biblical norm. I plead with church leaders to prayerfully hear Leeman's case so that Christ is more exalted, we are more faithful, and our churches most effectively advance the Great Commission.
This book analyzes the multisite and multiservice models with tremendous commitment to Scripture, clarity, and precision. Jonathan Leeman brings to light the implications of the multisite and multiservice movement's chronological and geographical fragmentation of the one assembly: the redefinition of the nature of the church and the reshaping of the church morally. Every pastor must seriously consider his arguments.
Many churches take multiple services as a given. Increasingly, churches are embracing multisite models. With the boldness, courage, and zeal of a reformer, Jonathan Leeman invites us to submit our assumptions and practices in ministry to the scrutiny of what the Bible says about the church. Even if you don't agree with everything that One Assembly concludes about the church, Leeman is surely correct to call the church to build her life, worship, and service upon the foundation of Scripture alone. Let One Assembly provoke you, challenge you, and, above all, drive you to God's word.
Jonathan Leeman has advanced significantly the discussion on what constitutes a local church. An ekklesia, most fundamentally, is what it does: it is a gathering. Those looking to defend an alternative approach (either multisite or multiservice) will likely find some previously unconsidered arguments and data here. Leeman has assembled the most thorough case for one service/one church. Not everyone will be persuaded, of course; but Leeman's work was influential in our church's decision to move from multiservice to a single service.
The church of Jesus and the apostles cannot be redefined by our culture or our needs. This book describes the difficulties in my own experience of pastoring a multisite church that lost its building and was forced to split into six home campuses. Leeman provides an alternative for the multisite model, including the church-planting strategy our elders are preparing to follow. This book will challenge you and bless other church leaders in situations like mine.