Find this product on Logos.com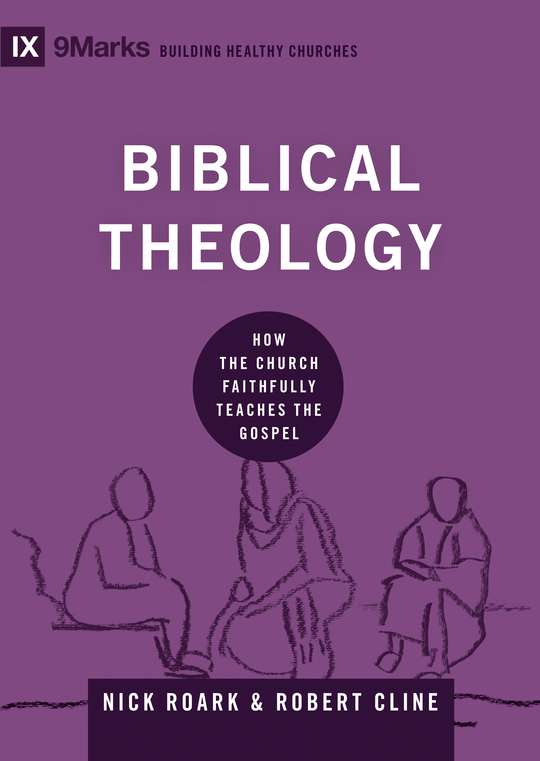 9Marks Building Healthy Churches: Biblical Theology
How the Church Faithfully Teaches the Gospel
Product Details
How does the church guard against false gospels?
Every week, many churches around the world read the Bible but miss the main point—and end up teaching false gospels week in and week out. One of the most important safeguards against this danger is an understanding of biblical theology: reading the Bible in light of its main message, culminating in Jesus Christ.
Starting with a framework for understanding the storyline of the Bible and then explaining basic principles for prioritizing the teaching of this message, this book aims to help churches guard the truth of the gospel.

About the Authors:
Nick Roark (MDiv, Southeastern Baptist Theological Seminary) serves as the pastor of Franconia Baptist Church in Alexandria, Virginia. Nick previously served on the pastoral staff of Capitol Hill Baptist Church in Washington, DC. He is married to Allison and they have three children.
Robert Cline is the managing director for training content and curriculum at the International Mission Board of the Southern Baptist Convention.
Endorsements
This little book packs a big punch. Absorb its contents, and feel its effect for years to come.
Faithful preaching and teaching not only zooms in on a particular text but also zooms out and considers the storyline of the whole Bible. Nick Roark and Robert Cline show how biblical theology is essential for the church, for preaching, and for living. They survey the big picture of the Scriptures and show us some wrong turns that are commonly made. A very helpful resource for pastors, teachers, and laypeople.
love biblical theology, but I don't always love biblical theology books. Too often, they are so technically written that they miss the majority of believers. This book is an exception. The authors not only define, defend, and describe biblical theology but also do so in a way that is accessible to all believers. This book is simple while addressing complex ideas, short but packed with information, and theoretical yet filled with practical examples of doing biblical theology. It is both a call to do biblical theology and a handbook for doing it well. I finished it with a deeper desire to see Jesus in the Word and to help my church members do the same.
There is not a single effective biblical expositor today who does not employ biblical theology to make sense of his text and to deliver its Christ-centered message. Roark and Cline explain in a very clear and direct way how biblical theology helps the church and pastors to understand and proclaim the big story from Scriptures.
Wow—this short book bundles a library of wisdom for grasping God's biblical storyline and faithfully teaching the Word! The authors have done us all a great favor by distilling heavy biblical concepts and making them simple, user-friendly, and transferable. This is the kind of book you want to hand out to a Sunday school teacher, an aspiring pastor, or a missionary candidate. Well-meaning Bible teachers often take the easy path of proof texting to make a 'practical lesson,' but miss the larger theme, the glorious centerpiece of the passage. A wonderful tool for keeping me on track as a missionary and for teaching new converts how to study and teach the Word, this small book should be translated into many languages!
This brief book explains important theological concepts in a clear, faithful, simple way. It is perfect for those in the church who might find an in-depth academic book a challenge, but who want to understand sound theology and grasp the biblical concepts needed in order to teach the gospel well. This is an excellent resource, and I can't wait to recommend it to my women's ministry team.
A believer is measured by faithfulness, and it is imperative that a believer know how to be faithful to the Word of God, our one timeless authority. Through explanation and example, Nick and Robert's book simply and helpfully instructs believers on how to rightly understand individual biblical passages while always keeping in mind the big picture that Christ is the goal and end of all Scripture. I highly recommend it as an invaluable companion for any believer desiring to hear the words, 'Well done, good and faithful servant.'
Biblical theology is a frequently ignored subject, despite being indispensable to understanding the entire Bible. The authors of this excellent book realize the importance of this topic for comprehending the storyline of redemptive history. If you are looking for a resource that explains and applies biblical theology well, this is your book. It is biblical, well written, easy to understand, practical, brief yet not superficial, full of information, and extremely helpful for preaching and pastoral ministry. I'm amazed at how much solid instruction was put into such a short book.